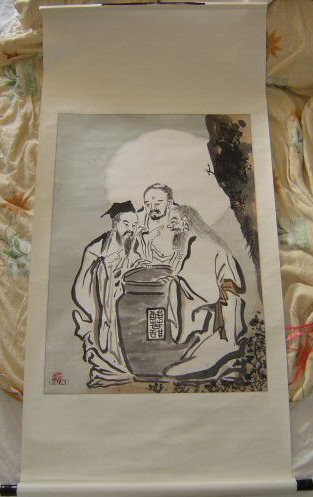 3 Vinegar Tasters - Serial #2

Chris Joiner
Kihei, Hawaii, USA

---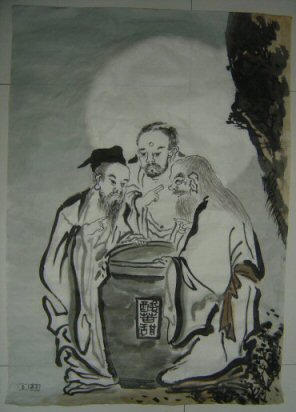 3 Vinegar Tasters - Serial #3

David Heflin
Clarksville, Tennessee, USA

---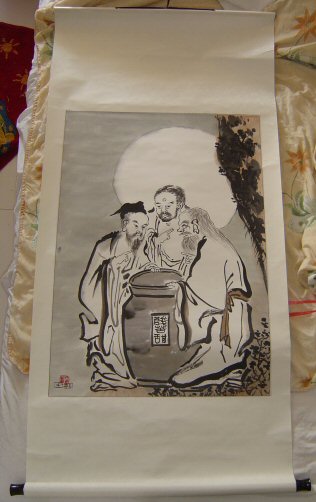 3 Vinegar Tasters - Serial #4

Michael Rotman
Pine Mountain Club, California, USA

---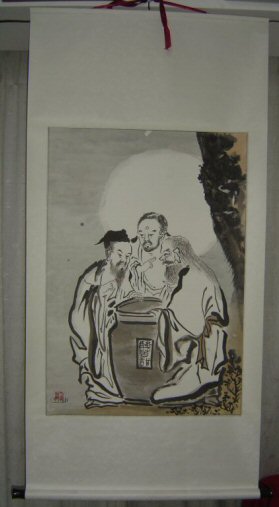 3 Vinegar Tasters - Serial #5

Andrea Avila
Burbank, California, USA

The following are the first 100 owners of the classic limited edition serialized paintings of the "Three Vinegar Tasters" by a master painter in China. Purchase now to get your own serialized version of the Vinegar Tasters. To see more serial numbers of other owners, visit Donors and more owners of Vinegar Tasters scroll painting.

---

#6: Jay Ronca, King of Prussia, Pennsylvania
#7: Martin Ho, Denver, Colorado
#8: Andy Quintilian, Baltimore, Maryland
#9: Jennifer Welsh, Imperial, California
#10: Brett D. Wheat-Simms, Chickasha, Oklahoma
#11: Grant Higgins, Dearborn Heights, Michigan
#12: W Stacy Huntington, Glendale, Arizona
#13: Marisa Hart, Ann Arbor, Michigan
#14: An Milliron, Augusta, Georgia
#15: Michelle Lin, Cleveland, Ohio
#16: Peter Poutiatine, San Anselmo, California
#17: Steve Drum, Valrico, Florida
#18: Lee Juvarkar, Miami, Florida
#19: Steve Drum, Valrico, Florida
#20: Robert A. Waller, Pasadena, California
#21: Rachel Burr, Troy, Michigan
#22: Lee Juvarkar, Miami, Florida
#23: Dustin Williams, Moody, Alabama
#24: Jill Heinrich, West Mifflin, Pennsylvania
#25: Steve Drum, Valrico, Florida
#26: Kristine Heinrich, Concord, North Carolina
#27: Michele Tringali, Baltimore, Maryland
#28: Lee Juvarkar, Miami, Florida
#29: Kari Schmidt, Washington DC
#30: Curt Cook, San Antonio, Texas
#31: L. Challice, Banffshire, United Kingdom
#32: A. Keto, Raleigh, North Carolina
#33: M. Blume, Bad Vilbel, Germany
#34: C. Miller, Port St. Lucie, Florida
#35: R. Meyer, Kendall Park, New Jersey
#36: J. Lertpatthanakul, Pembroke, Massachusetts
#37: K. Cole, West Chester, Ohio
#38: C. Joiner, Pitman, New Jersey
#39: C. Thompson, Lafayette, Louisiana
#40: J. Minick, Evansville, Indiana
#41: S. Davis, College Station, Texas
#42: R. Farshler, Austin, Texas
#43: S. Romine, Kelseyville, California
#44: R. White, Cleveland, Ohio
#45: S. Feehan, Perry, Georgia
#46: J. R Cottrill, Brunswick, Australia
#47: P. Hitzelberger, Royal Oak, Michigan
#48: E. Smith, Chantilly, Virginia
#49: D. Malychansy, Milwaukee, Wisconson
#50: S. Israels, British Columbia, Canada
#51: J. Flyagina, New York, New York
#52: S. O'Brien, Temecula, California
#53: J. Clark, Kennesaw, Georgia
#54: G. Tally, Wichita Falls, Texas
#55: K. O'Connor, Loveland, Ohio
#56: S. Patel, New York, New York
#57: K. Rozelle, Irvine, California
#58: N. Carter, Los Angeles, California
#59: C. Magaro, Marysville, Pennsylvania
#60: J. Towles, Reynoldsburg, Ohio
#61: J. Flyagina, New York, New York
#62: M. Lewin, Corpus Christi, Texas
#63: A. Shah, Atlanta, Georgia
#64: D. Fulton, Las Vegas, Nevada
#65: J. Andersen, Glendale Heights, Illinois
#66: J. Tribby, Palo Alto, California
#67: D.Bidwell, Houston, Texas
#68: L. Passue-llo, Clearwater, Florida
#69: B. Fieser, Bradenton, Florida
#70: J. Dabian, Chattanooga, Tennessee
#71: L. Ghiselli, Denver, Colorado
#72: R. S. Cockerham, Crowley, Louisiana
#73: J. Caballero, Pembroke Pines, Florida
#74: J. Pierangeli, Seattle, Washington
#75: K. Millard, South Lanarkshire, United Kingdom
#76: D. Floyd, Marietta, Georgia
#77: P. Windsor, Burbank, California
#78: A. Cavina, Clemmons, North Carolina
#79: J. Kittle, Los Gatos, California
#80: T. King, Decatur, Georgia
#81: H. Riley, Newport News, Virginia
#82: J. Morrissey, Charlottesville, Virginia
#83: R. Fazel, Las Cruces, New Mexico
#84: R. Hann, Canandaigua, New York
#85: K. Spiegel, Washington DC
#86: J. Janosky, Reading, Pennsylvania
#87: C. Ortloff, North Mankato, Minnesota
#88: J. Hein, Rex, Georgia
#89: S. Flores, Midland, Texas
#90: R. Bagley, Santa Monica, California
#91: Y. Kuo, San Francisco, California
#92: M. Isberg, San Diego, California
#93: C. Lueders, Bonn, Germany
#94: M. Bruce, Westerville, Ohio
#95: S. LeBlanc, New Orleans, Louisiana
#96: E. Jenkins, Midvale, Utah
#97: A. F. Polard, Topanga, California
#98: E. Franks, Cardiff, United Kingdom
#99: M. Turnquist, Lafayette, Colorado
#100: A. Alvarado, Mesa, Arizona



36 states (plus Washington DC) from USA have a Vinegar Tasters scroll. Also one to each of FPO, AP and FPO, AE addresses. Only 14 more states left. 15 countries (including USA) have purchased a scroll.

---
Interesting Statistics
State (U.S.A.)
Number(s) Sold
California
47
Florida
19
Texas
17
Pennsylvania
14
Colorado
11
Georgia
11
Virginia
11
Washington
11
Michigan
10
New York
10
New Jersey
9
Ohio
9
Illinois
8
North Carolina
8
Massachusetts
7
Utah
7
Louisiana
5
Indiana
4
Maryland
4
Nevada
4
Oregon
4
Washington DC
4
Alabama
3
Hawaii
3
Minnesota
3
Missouri
3
New Hampshire
3
Oklahoma
3
Alaska
2
Arizona
2
Kansas
2
New Mexico
2
Tennessee
2
West Virginia
2
Wisconson
2
Kentucky
1
South Carolina
1
Fleet Post Office, Armed Forces Pacific
1
Fleet Post Office, Armed Forces Europe
1
Country
Number(s) Sold
United Kingdom
18
Canada
12
Germany
4
The Netherlands
4
Australia
2
Finland
2
France
2
Belgium
1
Bulgaria
1
Israel
1
Spain
1
Sweden
1
Switzerland
1
Turkey
1